Implant Restoration
Dental Implant Restoration Leesburg, VA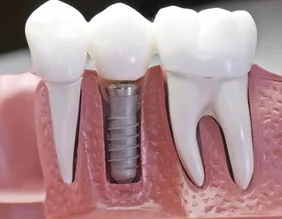 The highly-skilled dentists at South Gate Dental, your trusted Leesburg dentist, offer a wide range of restorative dental treatments, including dental implant restorations. Dr. Tammy Knapp Heisey and her staff believe dental implants provide the most natural-looking and functioning tooth replacement choice available today in in Leesburg, VA.


It All Starts with Tooth Loss
The need for state of the art tooth replacement options begins with tooth loss. Accident, extensive decay, and congenital defect can compromise tooth structure to the extent that extraction is the only course of action. Additionally, advanced gum disease, or periodontitis, remains the number one cause of tooth loss among American adults, according to the National Institute of Dental and Craniofacial Research.
Fortunately, tooth loss--involving one tooth or multiples--does not have to spoil smile aesthetics, facial features, eating or speaking. Our dentists in Leesburg, VA have the expertise to evaluate prospective implant patients and to place custom-fabricated dental implants and lifelike restorations, such as porcelain crowns, for well-functioning, no-gap smiles.


Dental Implant Process
Sometimes patients require bone grafting from human or animal sources to augment jaw bone weakened by extraction. This relatively quick and comfortable process provides a stable base for in-office insertion of a metal dental implant device.
Composed of titanium, the dental implant screws right into the jaw. The dentists at South Gate Dental use cutting edge BioHorizons dental implants which are known for their design stability and affinity for human bone. Through a process called osseointegration, the dental implant melds with the jaw, providing it with a large measure of strength and density.
After some healing time, your Leesburg dentist places an extension post on the implant and then a custom-fabricated porcelain crown as the final dental implant restoration. Dental implants and their restorations may be placed singly or in multiples. They also support partial or full dentures for the best fitting, biting and speaking available to the restorative dentistry patient.


Life with Dental Implant Restorations
Dental implants last for a lifetime, says the Academy of Osseointegration. They do not decay or shift position. The only real threat to their survival is peri-implantitis, an inflammatory and infectious process much like advanced gum disease. Peri-implantitis comes from: smoking or chewing tobacco, poor oral or overall health (uncontrolled diabetes, for example), and negligent dental hygiene.

With good in-home brushing and flossing and regular preventive visits to South Gate Dental these restorations function well and look great for decades.


Do you need dental implant restoration or would you like to learn more?
Call South Gate Dental in Leesburg, VA today at (703) 777-3150 for more information or to book an appointment!